So you want to enhance your email campaign with an animated countdown timer to create urgency for your customers? Read on! Email countdown timers are an extremely easy, yet powerful tool that you can utilize in your email marketing campaigns. Today I'm going to walk through email countdown timers, and show you how to use them to spruce up your next email blast. Oh, and did I mention you can do it all for free and in only a couple of minutes using our generator here on Sendtric?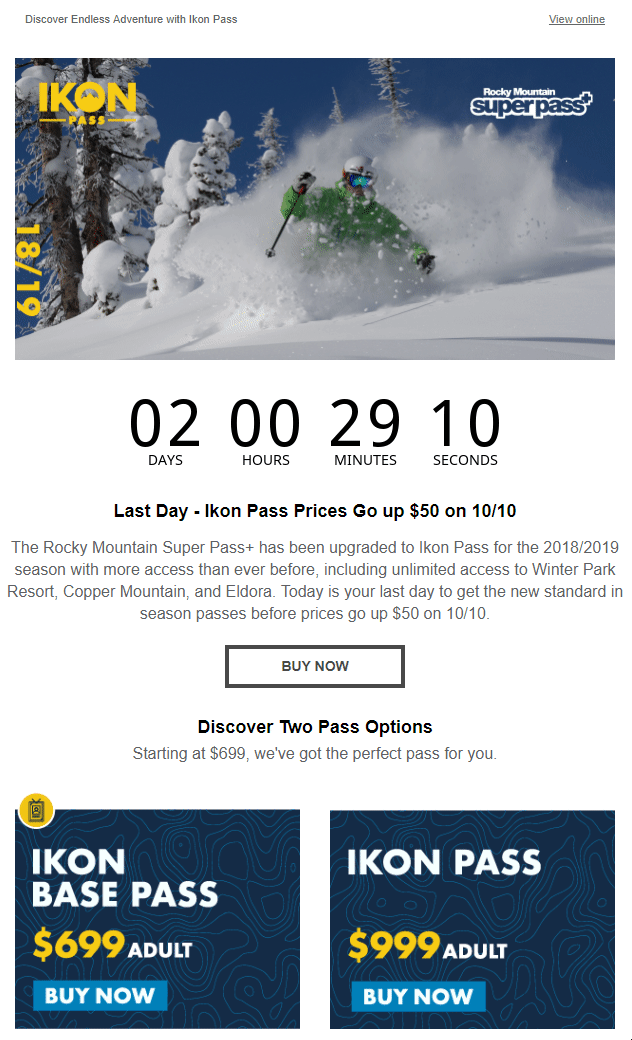 "Many of our marketing campaigns are time sensitive, and often a date or time can get overlooked if just including in our copy. Using a timer in our email communication helps the date and time stand out, and drives behavior by increasing the sense of urgency for our customers. Since using timers in our email communication we have seen engagement and conversion rates increase dramatically, and it is a creative tool that is easy to program and cost effective."
A Brief Overview of Email Countdown Timers
The use of dynamic content in emails is a rapidly growing area in email marketing. For a medium that has historically consisted of mostly static content, anything that can give a a campaign a little bit of liveliness is quite appealing to email marketers. One of the most effective ways to include dynamic content in your emails is with an email countdown timer. These are animated GIF images that count down for the amount of time you specify; for example you may want to count down to a sale, event, or deadline.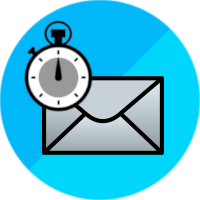 At their core, email countdown timers are simply images (.gif). This means that email client support is solid across the board. Animated GIF images are supported in virtually every email client, except desktop versions of Outlook. Outlook 2007, 2010, and 2013 do not fully support them, however they will still accurately show the first frame of the animated GIF image. That means that our timers on Sendtric will still be accurate, since the first frame of our timers is always set to the correct amount of time remaining for the timer. Check out this great article about support for animated GIF images on Campaign Monitor for more information about client support for animated GIF images.
Email countdown timers are perfect for introducing a sense of urgency in your campaigns, which ultimately leads to higher click-through-rates and more engagement. A common use case for our customers is a sale running for a limited time. If you are a retailer that runs special sales for your products, an email countdown timer would be a great way to give your sale announcement campaign a bit of extra flare. Our customers have found many creative uses for our timers: event ticket sales, political campaigns, deadlines, new account sign ups, and much more.
How To Create An Email Countdown Timer on Sendtric
Creating email countdown timers on Sendtric is an extremely easy process. We do not even require an account for you to begin creating them for free. And yes, I did say free – not kind of free, not free with limits, and definitely not free with an obtrusive watermark like other providers may use. We understand email marketing here, and if you want to try our service, we do not want to get in your way. Let's walk through how you can create a free email countdown timer on our home page:
Visit our home page at https://sendtric.com
Enter your email and desired timer options
Click Generate!
Copy and paste the provided code into your HTML email template
That's it! Enjoy your new and improved email template!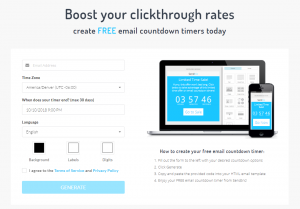 Through our free generator you can customize the background, label, and digit colors, as well as select from one of our preset languages. If you are looking for extra customization, including background images, fully custom label text, and different types of timers, be sure to check out our Professional Edition, which offers all of this and more.

Have any questions about Sendtric? Or just want to share some feedback with us? We love interacting with our customers and users. Shoot us an email: support@sendtric.com and we would love to get in touch!